By
Tony Jones
We've barely had time to draw breath this year but, as 2017 draws to a close, we can say unequivocally that it's been a cracking 12 months. In fact, 2017 has been the third year of consistent growth for Source and, in terms of the amount of people placed, it's been our most successful year. It's been an interesting time and certainly one full of contradictions. External factors out of Guernsey's...
Read more
By
James Le Flocq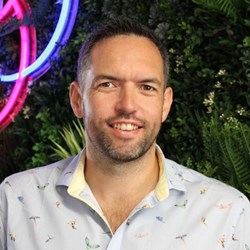 The business of financial services is going through unprecedented change. James Le Flocq, a Senior Recruiter at Source Recruitment, argues that fintech is opening up new opportunities for anyone looking for a fresh challenge. It's an interesting time to work in the finance industry. Guernsey has worked hard to forge a reputation that is the envy of other jurisdictions around the world but the...
Read more
By
Source Recruitment
And the winner is… After nine weeks of fierce competition, the moment has come to announce the winner of the Great Source Soup Off. The much-coveted Golden Ladle Award goes to Tony for his Red Pepper, Tomato & Chilli Soup. Despite Tony's haphazard approach to soup making, his combination of roasted red peppers, tomatoes, garlic and chilli really packs a flavour punch and was a clear winner. As...
Read more
By
Source Recruitment
Christmas treats for our temps.Christmas is fast approaching, and because our temps have been hard at work, helping businesses at this busy time of year, we thought they all deserved a little festive treat. The Source temp Christmas elves, (also known as Olivia, Candice and Robyn!) have created this very special Christmas Panettone Tree. These traditional Italian sweet breads will soon be on their...
Read more
By
Source Recruitment
We've adopted a Polar bear! This year the Source team have decided to adopt a Polar bear with the world's leading conservation organisation the World Wildlife Fund instead of sending Christmas cards WWF works in 100 countries and is supported by more than one million members in the United States and close to five million globally. WWF's unique way of working combines global reach with a foundation...
Read more
Sign up for an account to receive notifications of suitable jobs as soon as they're added.